Andy Fletcher: The Brigade Boy
[No.1, 18th May 1985. Pictures: John Stoddart.]
After the colourful stories of Dave and Martin, Andy comes across as the strong, silent anchorman of Depeche Mode in this third instalment of a series of interviews. In fact, Andy has comparatively little to say about himself, and for some part of the interview gives the band's history. There's still plenty about his hobbies and private opinions that you don't see elsewhere.
" After having taken the mickey my workmates were finally impressed when they saw our publicity photos and the posters I'd photo-copy in the office. "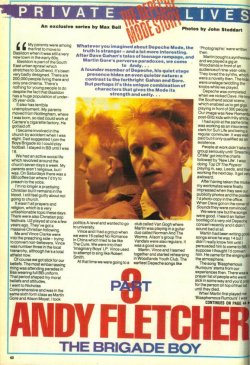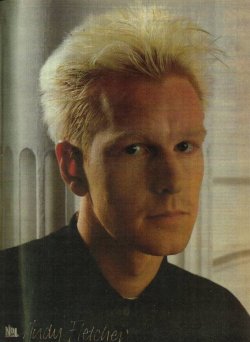 Whatever you imagined about Depeche Mode, the truth is stranger – and a lot more interesting. After Dave Gahan's tales of teenage rampage, and Martin Gore's perverse paradoxes, we come to Andy…
A founder member of Depeche, his quiet stage presence hides an even quieter nature: a contrast to the forthright Gahan and Gore. But perhaps it's this unique combination of characters that gives the Mode its strength and unity…
My parents were among the first to move to Basildon when it was still a very new town in the early 1960s.
Basildon is part of the South East urban sprawl which stretches to Southend. It's been very badly designed. There are 200,000 people living there and only one cinema. There's nothing for young people to do despite the fact that Basildon has a huge population of under-25 year-olds.
It also has terrible unemployment. My parents moved from Nottingham, where I was born, so dad could work at Carrere's cigarette factory. He got laid off.
I became involved in the church by accident when I was eight. Dad suggested I join the Boys Brigade so I could play football. I stayed in BB until I was 18.
We had an active social life which revolved around the church seven days a week. My parents aren't religious, but I was. On Saturdays there was a BB coffee bar where I'd try to preach to the yobs.
I'm no longer a practising Christian but it remains in the blood. I still feel guilty about not going to church.
It wasn't all prayers and religion, which is a very unfashionable topic these days. There were also Christian pop festivals. U2 played at one a few years ago. They've got a massive Christian following.
Me and Vince Clarke were into the preaching side – trying to convert non-believers. Vince was number three in the local hierarchy, although he's a total atheist now.
Of course we got stick for our beliefs. The most embarrassing thing was attending parades in Bas wearing full BB uniform. That period shaped my moral beliefs and attitudes.
I went to Nicholas Comprehensive and was in the same sixth form class as Martin Gore and Alison Moyet. I took politics A-Level and wanted to go to university.
Vince and I had a group when we were 16 called No Romance In China which tried to be like The Cure. We were into their 'Imaginary Boys' LP. Vince used to attempt to sing like Robert Smith.
At that time we were going to a club called Van Gogh where Martin was playing in a guitar duo called Norman And The Worms. Alison's group The Vandals were also regulars. It was a good scene.
Martin, Vince and I teamed together and started rehearsing in Woodlands Youth Club. The earliest Depeche songs like 'Photographic' were written then.
Martin bought a synthesiser and we played a gig at Woodlands in front of an audience of nine-year-olds. They loved the synths, which were a novelty then. The kids were onstage twiddling the knobs while we played.
Depeche was completed when we nicked Dave. He knew the Southend social scene, which enabled us to get gigs playing in front of 300 people. Our image was New Romantic post-Blitz kids with frilly shirts.
I had a job at the same time. I was working as an insurance clerk for Sun Life and being a regular commuter. It was well paid but it only qualified as an existence.
People at work didn't take my group seriously until 'Dreaming Of Me' got into the charts followed by 'New Life'. I was doing Top Of The Pops or playing in, say, Leeds, and then working the next day. It got very awkward.
After having taken the mickey my workmates were finally impressed when they saw our publicity photos and the posters I'd photo-copy in the office. When Dave got on the cover of Sounds they were convinced. [1]
We were raw but the songs were good. I heard an Italian bootleg of a very old Depeche concert recently and it didn't sound bad at all.
Martin had been writing good songs since he was 14 but I didn't really know him until I persuaded him to come to BB. I suppose I thought I'd convert him. He came for the singing and the atmosphere.
The song 'Blasphemous Rumours' stems from our experiences then. There was a prayer list of people who were sick in some way and you'd pray for the person on top of that list until they died.
When Martin first played me 'Blasphemous Rumours' I was quite offended. I can see why people would dislike it. It certainly verges on the offensive.
Learning From History
My private life away from music is simple and ordinary. I live with my girlfriend and her mum on the outskirts of Basildon.
If I go out I do things like play snooker or football or hang out with two friends who are DJs. I go to see Chelsea when I can.
I'm reading a lot at the moment, particularly books about Germany between the wars and the rise of the Third Reich, the life of Hitler and his rise to power. Albert Speer's biography is fascinating.
I've always been most interested in political history. We can learn a lot from the rise of fascism. For instance, studying the Nazis teaches you that proportional representation is extremely dangerous. [2] Hitler came to power with a minority vote.
My own political beliefs are very confused. I'm not totally socialist.
I'm very patriotic, very pro-British. I know some people think that's wrong but I can't help it. I don't believe we should give up our side of the nuclear deterrent. If we surrendered our nuclear weapons, Britain's stature would disappear. I'm a bit of a soldier at heart.
The Labour Party is weak now, it still lacks leadership – but if I ever voted it would be for Labour, even though some of my ideas are quite right-wing. I don't mind the Alliance.
I'm a firm believer in the welfare state and the abolition of private schools so you can see it's difficult to describe me.
If you asked me two years ago whether I wanted children I'd have said definitely not, but the urge increases as you get older.
I don't believe in marriage, I think it's a pointless institution. Having said that, I'd probably get married anyway for conventional reasons. I am quite a conventional type.
My home life was always very happy and stable. I got on fine with my parents and my two sisters and brother – all younger than me.
Mum still worries like mad about me when Depeche are on tour. Not because she thinks I'd be a bad boy – she knows I wouldn't – but just in case I didn't come home afterwards.
[1] - That's the 27th June 1981 edition - here. NB use the "back" button to return to this page, as the "back to article" link will take you to the 1981 Sounds article.


Last edited: