Aces High
[Zig Zag, August 1985. Words: William Shaw. Pictures: Coneyl Jay.]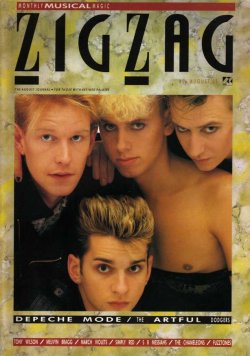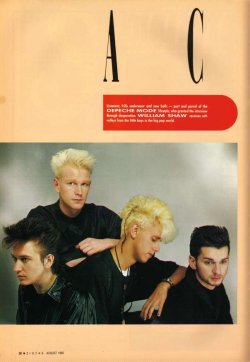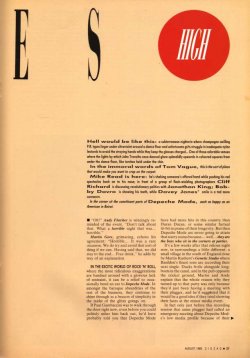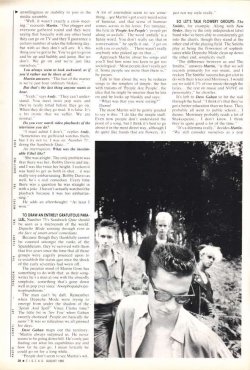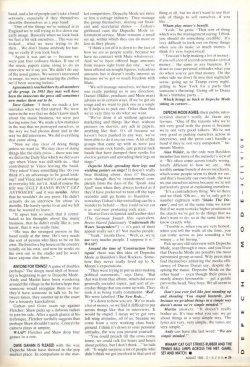 Intelligent and refreshing article, written at a time when Depeche Mode were just starting to be taken seriously. The band talk about how they sit uncomfortably in the music world with its round of promotions, and how this affects people's view of them. Best of all, the author means every word of it. There should have been more like this one.
" It's a contradictory thing. We sit there and we think "Oh no...we've only got to number eighteen with "Shake The Disease", and yet at the same time we know that if we want to make higher positions in the charts we've got to do things that we don't want to do, so at the same time we know exactly why. "
Hell would be like this: a subterranean nighterie where champagne swilling P.R. types linger under ultraviolet around a dance floor and unfortunate girls struggle in inadequate nylon leotards to avoid the straying hands while they keep the glasses charged... One of those adorable venues where the lights by which John Travolta once danced glare splendidly upwards in coloured squares from under the dance floor, like torches held under the chin.
In the immoral words of Tom Vague, this is the sort of place that would make you want to crap on the carpet.
Mike Read is here: he's shaking someone's offered hand while pushing his red spectacles back on to his nose; in front of a group of flash-wielding photographers Cliff Richard is discussing revolutionary politics with Jonathan King; Bobby Davro is showing his teeth, while Davey Jones' smile is a tad more careworn.
In the corner sit the constituent parts of Depeche Mode, each as happy as an American in Beirut.
"Oh!" Andy Fletcher is wincingly reminded of the event. "Don't talk about that. What a horrible night that was...horrible."
Martin Gore, grimacing, echoes his agreement: "Horrible...It was a rare occasion. We do try and avoid that sort of thing if we can. Having said that, we did stay to the end...Free drink," he adds by way of an explanation.
In the exotic world of rock'n'roll, where the most ridiculous exaggerations are bandied around with a glorious lack of restraint, it can be a relief to occasionally bend an ear to Depeche Mode. In amongst the baroque absurdities of the rest of the business, they continue to shine through as a beacon of simplicity in the midst of the glitzy goings on.
If Paul Gambaccini was to walk through the door right now, even before you could politely usher him back out, he'd have probably told you that Depeche Mode have had more hits in this country than Duran Duran, or some similar factual tit-bit in praise of their longevity. But then Depeche Mode are never going to attain that starry status because...well...they are the boys who sit in the corners at parties.
It's a few weeks after that odious night now, in surroundings a little different: a small village in the south of England close by Martin Rushent's Genetic Studio where Basildon's finest sons are recording their next single. Ducks frolic alongside longboats in the canal, and in the pub opposite the cricket ground, Martin and Andy explain that the whole reason why they turned up to that party was only because they'd just been having a meeting with their plugger, and he'd suggested that it would be a good idea if they tried showing their faces at the minor media event.