Boys Keep Swinging
[No. 1, 19th January 1985. Words: Max Bell. Pictures: John Stoddart.]
Untaxing article with large contributions from Martin and Dave looking mainly at how Martin's lifestyle changes have subtly affected his outlook and seeped into the songs. Engaging without being too deep, and remarkable mainly for some stunning photography, including one of Martin in the nude.
" Martin's writing style is refreshingly sexy without being sexist. I told him I thought his approach was more feminine than masculine and he didn't hit me. "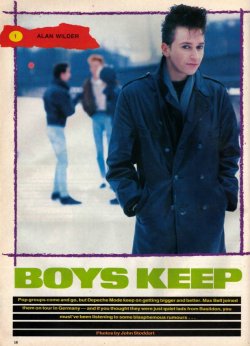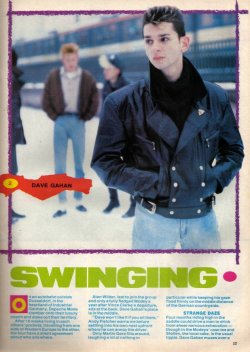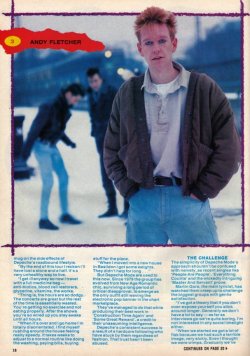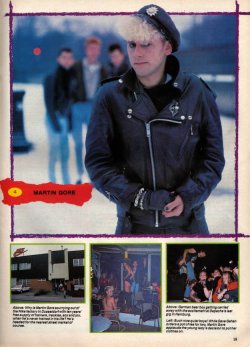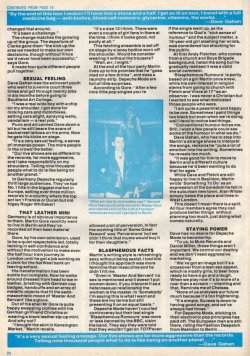 Pop groups come and go, but Depeche Mode keep on getting bigger and better. Max Bell joined them on tour in Germany – and if you thought they were just quiet lads from Basildon, you must've been listening to some blasphemous rumours…
On an autobahn outside Dusseldorf, in the heartland of industrial Germany, Depeche Mode clamber onto their luxury coach and stake out their territory.
After 16 weeks of living in each other's pockets, travelling from one side of Western Europe to the other, the four have a silent agreement about who sits where.
Alan Wilder, last to join the group and only a fully fledged Modey a year after Vince Clarke's departure, sits at the back. Dave Gahan's place is in the middle.
"Dave won't like it if you sit there," Andy Fletcher warns me before settling into his own nest upfront where he can annoy the driver.
Only Martin Gore flits around, laughing a lot at nothing in particular while keeping his gaze fixed firmly on the middle distance of the Germany countryside.
STRANGE DAZE
Four months riding high in the saddle could drive a man to drink from sheer nervous exhaustion – though in the Modeys' case tea and Stollen, the local cake, is the usual tipple. Dave Gahan muses over a mug on the side effects of Depeche Mode's roadbound lifestyle.
"By the end of this tour I reckon I'll have lost a stone and a half. It's a very unhealthy way to live.
"I get ill anyway so now I travel with a full medicine bag – anti-biotics, blood cell restorers, glycerine, vitamins, the works.
"Thing is, the hours are so dodgy. The concerts are great but the rest of the time is essentially wasted. You're getting no exercise and not eating properly. After the shows you're so wired up you stay awake until all hours.
"When it's over and I go home I'm totally disorientated. I find myself rushing around the house feeling really speedy. It takes weeks to adjust to a normal routine like doing the washing, paying bills, buying stuff for the place.
"When I moved into a new house in Basildon I got some weights. They didn't help for long…"
But Depeche Mode are used to this now. Since 1979 the group has evolved from New Age Romantic chic, surviving a long period of critical disapproval, to emerge as the only outfit still waving the electronic pop banner in the chart marketplace.
They've managed to do that while producing their best work in "Construction Time Again" and "Some Great Reward", a credit to their unassuming intelligence.
Depeche's consistent success is a result of a hardcore following who have stuck by them regardless of fashion. That trust hasn't been abused.
THE CHALLENGE
The simplicity of Depeche Mode's approach shouldn't be confused with naivety, as recent singles like "People Are People", "Everything Counts" and the wickedly intriguing "Master And Servant" prove.
Martin Gore, the main lyricist, has watched them creep up to challenge the biggest groups with gentle satisfaction.
"I've got a theory that if you don't over-expose yourself you stick around longer. Generally we don't have a lot to say – as far as interviews go we're quite boring. I'm not interested in any social limelight either.
"When we started we got a lot of flak because we had such a terrible image, very sickly. Even I thought we were wimps. Gradually we've changed that around.
"It's been a challenge."
The change matches the growing up of the group. The departure of Clarke gave them "the kick up the arse we needed to make our own decisions, though without Vince we'd never have been successful," says Gore.
It made four quite different people pull together.
SEXUAL FEELING
Dave Gahan was the extrovert youth who went to juvenile court three times and got through twenty jobs in six months before going to Southend Art College.
"I was a real wide boy with a chip on my shoulder. I got done for nicking cars and motorbikes, setting cars alight, spraying walls, vandalism – a real yob."
Punk and art calmed Dave down a bit but he still bears the scars of backstreet tattoos on his arms. Now he gets his kicks on stage.
"It's a very sexual feeling, a sense of immense power. The more people in the crowd the better.
"Our live shows are so different to the records, far more aggressive, and I take responsibility on my shoulders. Telling nine thousand people what to do is like being on another planet."
In Germany Depeche regularly thrill large audiences. They've had No. 1 hits in the biggest market in Europe, selling over three million records in a country where the top act isn't Frankie or Duran but old fogey Roger Whittaker!
THAT LEATHER MINI
Germany is of obvious importance to them. Martin Gore recently went to live in Berlin and they've recorded all their best material there.
Gore, by his own admission, used to be a quiet respectable lad, totally lacking in self-confidence and without the motivation to make even the half hour train journey to London until he got a job working as a clerk for the NatWest bank on leaving school.
His transformation has been subtle but complete. Now he walks around dressed from head to toe in leather, bristling with German cop badges, handcuffs and an array of metallic objects that fit the sado-masochistic mood of "Master And Servant" like a glove.
Out of his shell Mr Gore is quite happy swapping clothes with his German girlfriend Christina or wearing a black leather zip-up mini. And why not?
"I bought the skirt in Kensington Market," Martin recalls.
"It's a size 12 I think. There were even a couple of girl fans in there at the time. I think it looks good, not poofy at all."
This fetching ensemble is set off on stage by a lacey bodice worn off the shoulder. Would he consider wearing it without the trousers?
"Well, err, I might."
At the end of the tour party Martin lives up to his promise that he "goes mad on a few drinks", and does a raunchy strip. Depeche Mode are full of little surprises.
According to Gore: "After a few nice little pop singles you're allowed a bit of perversion. In fact the working title of "Some Great Reward" was "Perversions" but we didn't think that mums would buy it for their daughters."
BLASPHEMOUS FACTS
Martin's writing style is refreshingly sexy without being sexist. I told him I thought his approach was more feminine than masculine and he didn't hit me.
"Even in Master And Servant" no sex is mentioned and it doesn't put women down. If you interpret it as a heterosexual relationship the woman is the master. In "Somebody" I'm saying this is what I want and these are my terms but still presenting it on an equal basis."
Depeche Mode haven't courted controversy but their last single "Blasphemous Rumours" was more or less banned by the BBC, claim the band. They say they were told that they wouldn't get on TOTP even if the single went up, as the reference to God's "sick sense of humour" and the subject matter, a 16-year-old girl slashing her wrists, was considered too shocking for the public.
At first Andy Fletcher, who comes from a church and Boys Brigade background, hated the song but he gradually realised it was a valid social comment.
"Blasphemous Rumours" is partly based on a girl Martin once knew, while his own interest in religion stems from going to church with Fletch and Vince at 17 "as an observer. I was never a Christian but I wanted to see what motivated those people who were.
"I am quite a pessimist and happy to be one. Sometimes I paint things too black but even when we're doing well I tend to notice bad things.
"Conventional humour bores me. Still, I wish a few people could see some of the humour in what we do."
Dave Gahan, who has to step into Martin's strange shoes to interpret the songs, reckons he "puts a lot of emotion into his writing. Sometimes he reveals too much.
"It was good for him to move to Berlin and a different culture because he'd been wanting to do that for ages."
While Dave and Fletch are still happy to live in Basildon, Martin wrote "Something To Do" as an expression of the boredom he felt in the suburban new town. Alan Wilder simply hates the place and lives in West London.
This doesn't mean there is a split. All four members agree they can produce better things without planning too much, just doing what comes naturally.
STAYING POWER
Dave has no desire for Depeche Mode to become hip.
"To us, to Mute Records and Daniel Miller, those things aren't important. We control our destiny and we don't need aggressive marketing.
"We've got an image but it's a crossover from a teen sex appeal, which is mostly girls, to beer boys ready to have a go and a laugh. When we play now it's to more of a roar than a scream – chanting and that. Reminds me of Chelsea.
"None of us analyses our future much because it's too frightening.
"It's simple. Success is down to having good songs, and we've always had those."
For Depeche Mode, sticking to their electronic pop principles has paid off. The European men are still there, riding the Fashion Despatch from Basildon to Berlin…