Depeche Mode Magazine - Living In The Machine Age
[Circuit Communications, 1987. Words: Mike Martin. Pictures: All Action Photographic / Pictorial Press / Rex Features.]
" For the past 7 years, Depeche Mode have continued to conjure up a potent blend of contagious melodies, irresistible rhythms and thought provoking lyrics, despite having been written off as a 'fad' group of the early eighties. "
One-off magazine containing a band biography and member profiles. The text is clearly based on
this book
,
Depeche Mode [Bobcat Books, London 1986. Words: Dave Thomas. Cover picture: London Features International Ltd / Barry Plummer] Short paperback biography of the band. The author spends a disproportionate amount of time covering the very early years and begins with a detailed examination of the...

dmremix.pro
and the author has made a sloppy attempt at updating it by including "Music For The Masses" but virtually ignoring "Black Celebration". Nonetheless it does feature more on the band members and the "human" element behind the music. Another undemanding entry point for the beginner, despite many inaccuracies.
Living In The Machine Age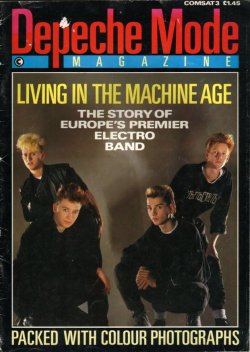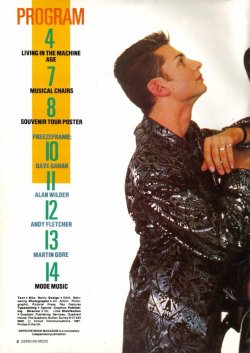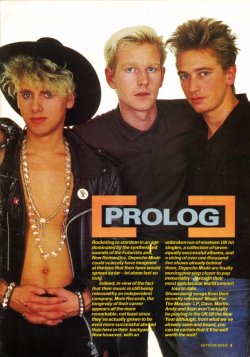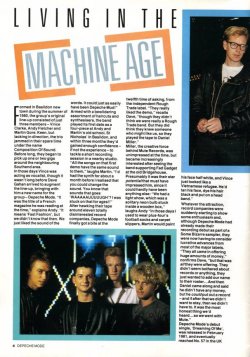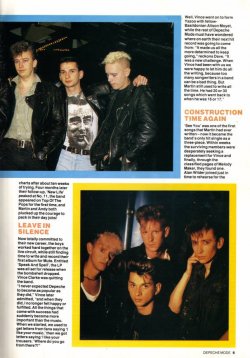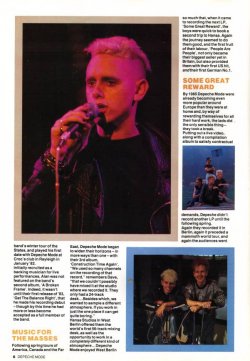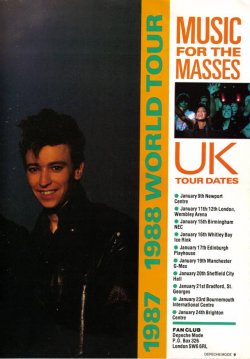 Formed in Basildon new town during the summer of 1980, the group's original line-up consisted of just three members – Vince Clarke, Andy Fletcher and Martin Gore. Keen, but lacking in direction, the trio jammed in their spare time under the name Composition Of Sound. Before long, they began to pick up one or two gigs around the neighbouring Southend area.
In those days Vince was acting as a vocalist, though it wasn't long before Dave Gahan arrived to augment the line-up, bringing with him a new name for the group – Depeche Mode. "It was the title of a French magazine he was reading at the time," explains Andy. "It means 'Fast Fashion', but we didn't know that then. We just liked the sound of the words. It could just as easily have been Depeche Mud!"
Armed with a bewildering assortment of haircuts and synthesisers, the band played its first date as a four-piece at Andy and Martin's old school, St Nicholas' in Basildon, and within three months they'd gained enough confidence – if not the experience – to tackle a short recording session in a nearby studio. "All the songs on that first demo have the same sound to them," laughs Martin. "I'd had the synth for about a month before I realised that you could change the sound. You know that sound that goes 'WAAAAAUUUUUGH'? I was stuck on that for ages!!"
After hawking their tape around eleven totally disinterested record companies, Depeche Mode finally got a bite at the twelfth time of asking, from the independent Rough Trade label. "They really liked the demo," recalls Dave, "though they didn't think we were really a Rough Trade band. But they did think they knew someone who might like us, so they played the tape to Daniel Miller." [1]
Miller, the creative force behind Mute Records, was unimpressed at the time, but became increasingly interested after seeing the band supporting Fad Gadget at the old Bridgehouse. Presumably it was their star potential that must have impressed him, since it could hardly have been anything else: "We had a light show, which was a solitary neon bulb stuck inside a wooden box," laughs Andy. "In those days I used to wear plus-fours, football socks and carpet slippers, Martin would paint his face half white, and Vince just looked like a Vietnamese refugee. He'd tan his face, dye his hair black and put on a head band."
Whatever the attraction, record companies were suddenly starting to show some enthusiasm and, although Depeche Mode had already made their recording debut as part of a Some Bizzare sampler, they were now having to consider lucrative advances from most of the major labels. "They all came in offering huge amounts of money," confirms Dave, "but that was all they were offering. They didn't seem bothered about records or anything, they just wanted to add our name to their roster… And then Daniel came along and said he didn't have any money, but he could put out a record – and if after that we didn't want to stay, then we didn't have to. It was the most honest thing we'd heard… so we went with Mute."
Depeche Mode's debut single, "Dreaming Of Me", was released in February 1981, and eventually reached No. 57 in the UK charts after about ten weeks of trying. Four months later their follow-up, "New Life" peaked at No. 11, the band appeared on Top Of The Pops for the first time, and Martin and Andy both plucked up the courage to pack in their day jobs!
[1] - At this time Rough Trade were providing the distribution for Mute releases.
Last edited: