Peter Robinson Vs. Dave Gahan, Depeche Mode
[NME, 29th September 2007. Woords: Peter Robinson. Picture: Uncredited.]
Interview with Dave ahead of the release of Hourglass. There's comparatively little in the way of discussion of the album, which seems like something of a wasted opportunity, but some interesting random morsels about Dave the family man.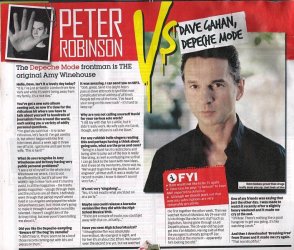 The Depeche Mode frontman is THE original Amy Winehouse.
Hello, Dave. Isn't it a lovely day today?
"It is. I've just arrived in London from New York and while it's weird being away from my family, it's a nice day."
You've got a new solo album coming out, so now it's time for the ridiculous bit where you have to talk about yourself to hundreds of journalists from around the world, each asking you a variety of oddly personal questions.
"I'm glad you said that – it is rather ridiculous, let's face it! I've got used to it, but when I began with the first interviews about a week ago it threw me off a bit. I got home and said to my wife, 'This is hard!'"
What do you recognise in Amy Winehouse and Britney having very public personal problems?
"I see a lot of myself in the whole Amy Winehouse car wreck. I try not to be affected by it, but it's all over the weekly rags in New York and it's hard to avoid. In all the magazines – the trashy gossip magazines – you go through them and the pictures are all there. I definitely went through that period myself when I lived in Los Angeles and played the whole Sid and Nancy part, but I think she's going to make it through and she's incredibly talented. I haven't caught any of the Britney thing, but everyone's been telling me about it."
Did you like the Depeche-sampling "Beware Of The Dog" by Jamelia?
"I didn't hear it. There seem to be a lot of those records coming out with bits and pieces on them."
It was amazing. I can send you an MP3.
"Ooh, great. Send it to (eight hours pass as Dave attempts to spell the most complicated email address of all time). People tell me all the time, 'I've heard your song on this new track' – it's hard to keep up."
Why are you not calling yourself David for your serious solo work?
"I did toy with that for a while, but it didn't really work. My wife calls me David, though, and refuses to call me Dave."
For any rubbish indie singers reading this and perhaps having a think about going solo, what are the pros and cons?
"Being in a band has its restrictions and being able to jump out of the box is really liberating as well as enthusing me so that I can go back to the band with new ideas. And it was on my own terms, there was no 'We've got to go into a big studio, book an engineer', all that stuff. It was a really fun record to make. I know it doesn't sound very fun…"
It's not very "singalong"…
"No, it's not exactly what you'd put on at a party."
Maybe you could release a karaoke version like they did with the High School Musical DVD.
"There are a couple of tracks you could get away with that on, actually…"
Have you seen High School Musical?
"I thought the film was absolutely horrendous. My youngest is eight, and for her it's all about Zac Efron. We haven't seen the second one yet, but we watched the first together the other week. Then we watched Hannah Montana. My 19-year-old is into things like electronic stuff such as Digitalism, having gone through a Led Zeppelin phase. The 15-year-old has just got into Iron Maiden. Having said all that the youngest is already going off Zac Efron a bit at the moment – apparently he's looking too old."
One of my friends was saying that just the other day. I was made to watch it recently after a slightly heavy weekend and it made me cry at the end.
"Oh dear. There's nothing like a good hangover to get you going. It's like watching Lassie."
And then I downloaded "Breaking Free" from iTunes and it made me cry again.
"That sounds pitiful."
FYI
Dave would not like to be 25 again
Dave says he pays "a fortune" to have NME imported to America
Although we should point out that overseas subscriptions are very reasonably priced etc