Real Gahan Kid
[Sky, March 1990. Words: Paul Lester. Pictures: Kevin Westenberg.]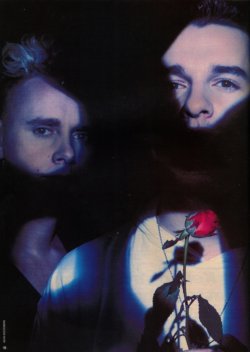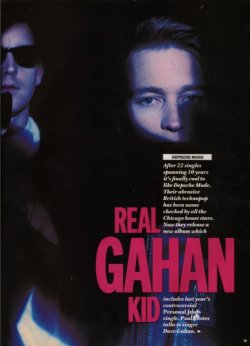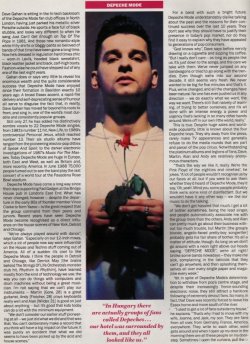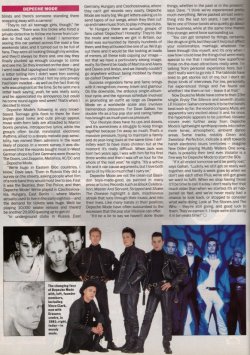 Engaging, detailed interview with Dave in the light of the impending release of Violator. One of the clutch of articles that came out at this time pleasantly surprised by the maturity and sultry style of the album, and heading a reappraisal of the band as dance pioneers. Unfortunately the author has fallen into the usual temptation of describing the band's career as if they spent the Eighties stuck as synth nancies before suddenly waking up one morning to find themselves synth gods. Nonetheless a thorough and intelligent article.
Dave Gahan is sitting in the hi-tech backroom of the Depeche Mode fan club offices in North London, having just parked his metallic silver Porsche outside. He sports a face full of black stubble, and looks very different to when he sang Just Can't Get Enough on Top Of The Pops in 1981. And those new romantic-style white frilly shirts or baggy pants so beloved of bands of that time have been gone a long time. Now he's dressed in regulation hard times chic - worn-in Levi's, hooded black sweatshirt, black leather jacket and black, calf-high boots. Fashion-wise he could have stepped out of any era of the last eight years.
Gahan does or says very little to reveal his enormous wealth and the quite considerable success that Depeche Mode have enjoyed since their formation in Basildon exactly 10 years ago. A broad Essex accent, a rapid-fire delivery and self-deprecating sense of humour all serve to disguise the fact that, in reality, Dave Gahan has moved far beyond his roots to front, and sing in, one of the world's most durable and consistently popular groups.
Still only 27, he has added his distinctively sombre vocals to 22 Depeche Mode singles, from 1981's number 11 hit, New Life, to 1989's controversial Personal Jesus, which reached number 13. [1] Their six studio albums have ranged from the pioneering electro-pop ditties of Speak And Spell, to the darker electronic investigations of 1987's Music For The Masses. Today Depeche Mode are huge in Europe, both East and West, as well as Britain and, more recently, America. In June 1988 75,000 people turned out to see the band play the last concert of a world tour at the Pasadena Rose Bowl stadium. [2]
Depeche Mode have come a long way since their days supporting Fad Gadget at the Bridge House pub in London's East End. What has never changed, however - despite the departure in the early 80s of founder member Vince Clarke to form Yazoo - is the great respect that the group command from their peers and juniors. Recent years have seen Depeche Mode become recognised as a direct influence on the house scenes of New York, Detroit and Chicago.
"We've always played around with dance", says Gahan. "Especially on our 12-inch mixes, which a lot of people now say were influential on the House and Techno stuff coming out of America. All of a sudden it's cool to like Depeche Mode. I think the people in Detroit and Chicago, like Derrick May [the brains behind The Strings Of Life Orchestra's monster club hit, Rhythim Is Rhythim], have learned mostly from the kind of technology we use, the way you can do things with computers and drum machines without being a great musician. I'm not saying that we can't play our instruments - Martin [Gore, 28] is a great guitarist, Andy [Fletcher, 28] plays keyboards really well and Alan [Wilder, 31] is good on just about anything - but it's good that kids today can do a lot with the minimum equipment.
"We don't consider our earlier stuff pioneering, at all - we just did what we did and that was that. You can't deliberately make a record that you think will have a big impact on the future. It was purely an accident that what we did seems to have been picked up by the acid and house scenes."
For a band with such a bright future, Depeche Mode understandably dislike talking about the past and the reasons for their continued success over the last 10 years. They don't see why they should have to justify their presence in today's pop market, nor do they find it easy to explain why they have appealed to generations of pop consumers.
"God knows why", Dave says before nervily drawing on a cigarette and sipping his coffee. "But I really don't care - as long as people like us. It's just down to the songs, and the care we take with them. We've never jumped on any bandwagons or tried to go along with the trendies. Even though we're into our second decade, it still seems very fresh. We never wanted to be big for five minutes and that's it. Plus, we've changed, and all the changes have been natural. No one has ever pushed us in any direction - we do exactly what we want, the way we want. There's still that naivety of learning, of trying to better ourselves, and it's all done with an intense energy, a power and urgency that's lacking in so many other bands around. We're off in our own little world, really."
This is true. Despite huge sales and worldwide popularity, little is known about the four Depeche boys. They shy away from the press, rarely make TV appearances and generally refuse to do the media rounds that are part and parcel of the pop circus. Notwithstanding the platinum albums and legions of fans, Dave, Martin, Alan and Andy are relatively anonymous characters.
"That's the way we like it, really. We're the Pink Floyd of the eighties and nineties", he jokes. "A lot of people wouldn't recognise us by our faces at all, but if you were to ask them whether they'd heard of Depeche Mode, they'd say, 'Oh, yeah'. Mind you, some people probably think we're some kind if disinfectant. But we wouldn't have it any other way - we like our music to do the talking.
"We don't get hassled that much. I get a bit of bother sometimes, being the lead singer, and people automatically associate me with the group more than the others. Andy and Alan can pretty much go about their business without too much trouble, but Martin [the group's blonde, angelic-faced pretty-boy songwriter] probably gets his fair share of bother. It's all a matter of attitude, though. As long as we don't go around with a neon light above our heads saying 'DEPECHE MODE', we're all right! Unlike some bands nowadays - they make me sick, complaining in the tabloids that they can't go anywhere, and then splashing themselves all over every single paper and magazine every week."
Yet in spite of Depeche Mode's determination to withdraw from pop's centre stage, and despite their increasingly fierce-sounding electronic noise, they still attract a hardcore following of extremely devout fans. So many, in fact, that Dave was recently forced to leave his Essex home and move south of the river.
[1] - Their first single was in fact 'Dreaming Of Me', in February 1981.
[2] - This figure is somewhat exaggerated. Steve Malins in his band biography gives a figure for ticket sales of 66,233, whereas tour accountant Jonathan Kessler states on the '101' video that "the paid attendance was 60,452 people". Obviously the 5781 people who bought a ticket but never went need their heads checking...