Mind, Body & Spirit Depeche Mode's Fletch interviewed (The Skinny, 2017)
The Skinny, Feature by Duncan Harman, 26 May 2017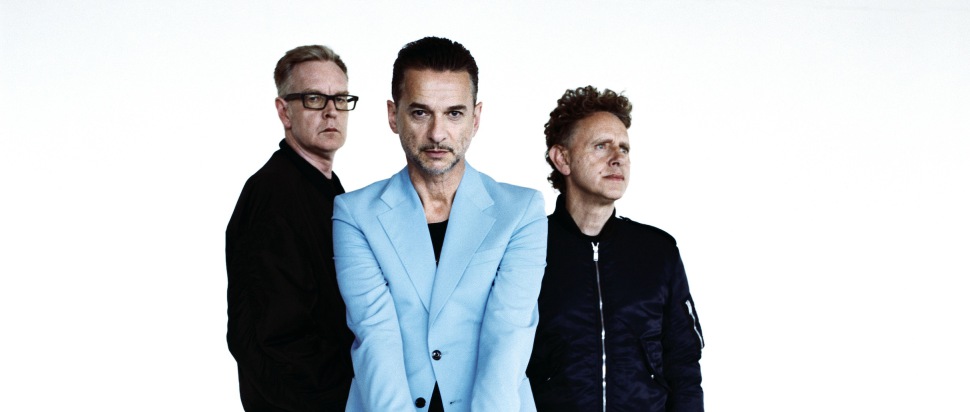 With a new album in the racks – not to mention a gig that'll go down in Glasgow lore – we catch up with founding member Andrew Fletcher to plot just how a mere pop band from the early 80s became something approaching the iconic
"We're one of the most popular bands in the world," says Andrew Fletcher, matter-of-fact, chatting to The Skinny down the phone.
Which is selective quotation. There's context, here – he's making a point about something, not fluffing his ego or an attempting to impress a credulous music hack. Yet as a statement it's difficult to dispute. Depeche Mode have sold over a hundred million records. If you're in your teens, or twenties, or early-to-mid thirties, they've been a constant longer than you have. They've been covered by acts as diverse as The Cure, Johnny Cash and (erm) Susan Boyle; sold out stadiums for longer than anyone cares to remember, and whilst fashions wax and fashions wane, DM have fostered levels of commercial and critical relevance far in excess of what most bands ever dream of – the phrase 'cultural icons' isn't too much of a stretch.
So; what's the secret? we'll ask Fletch, a little later on. Is there a secret?
Going Backwards
Rewind. 25 Jun 1981, and tonight's edition of Top of the Pops doesn't stick too far in the memory. We're still in the era where music on TV veers towards light entertainment, so there's the West End showtune brushing shoulders with a deeply unfunny novelty single – and whilst the much-missed Kirsty MacColl makes an appearance, watching the scantily-clad Legs & Co perform a ropey, interpretive dance to Michael Jackson's mawkish One Day in Your Life (the week's biggest selling single) underlines the fear that we haven't yet quite hit the future.
Still, there is a synth-pop act on this evening's bill. Number 43 in the charts. Four young, geeky lads from the Essex badlands, hiding their Top of the Pops virginity behind a stage presence that doesn't quite hang together.
New Life – the band's second single – is a perfectly serviceable Vince Clarke composition; a little insubstantial, perhaps, its chord progression the equivalent of a Meccano starter's pack, but this is pop music we're talking about, not a meditation upon advanced tonality. Presenter Simon Bates – Radio 1's resident morbid uncle – introduces them as De-pesh-ay Mode; a pronunciation faux pas that persists in BBC-land until at least the mid-80s. Three figures stand behind their catalogue synthesisers as if a little unsure at what they should be doing, whilst centre-stage, Dave Gahan sports hairspray overload, gyrating against the microphone stand as if performing on a cross-channel ferry during a gale. A little leather on display to suggest edginess – Gahan's trousers, Clarke's jacket, Fletch resplendent in Old Compton Street headgear – but nothing about the footage hints at what was to come.
Fast forward. 26 Mar 2017, and to celebrate the release of Spirit – the band's fourteenth studio album – they're headlining the BBC 6Music Festival at Glasgow's Barrowland Ballroom, multiple cameras capturing the gig for broadcast. Watching the playback, and it's impossible for TV to convey the atmosphere; Depeche Mode don't play gigs to 2,000 people (and we've fallen out with friends by blagging tickets) – the place crackles. Fizzes. The voltage of anticipation. Something very, very special is about to unfold. What's the secret? Is there a secret?
Their on-stage entrance is low-key. Long-term touring members Christian Eigner and Peter Gordeno settle behind drumkit and keyboards respectively. Fletch takes his place at his own keyboard rig, where he'll spend much of the gig with arms aloft like a middle manager whooping it up at a sales conference. Martin Gore – black nail varnish perfectly applied – strums the opening chords of Going Backwards (the first track on the new album), his guitar one of the many different varieties he'll be wielding tonight. And then there's Dave...
It's fascinating to witness Gahan's onstage persona, and in a strange way you can recognise its genesis from those early Top of the Pops episodes. Cuban heels and trademark waistcoat – all the better to flaunt those tattooed arms of his – he looks sharp, lean, lupine, grinding his hips in front of the drum riser. Then he turns, eyeing up the crowd with a boxer's stare, and as he sings his opening line in that familiar, knotty baritone, the entire auditorium breaks out in goosebumps.
So Much Love
We catch up with Fletch a few days later, and it's fair to say that he rather enjoyed Depeche Mode's first Barrowland gig since 1984. "It was incredible. We played there in the early 80s and I remember it being amazing then. But the great thing is that we only had to play for an hour.
"That helps, because if you do the two-hour set you have to pace it completely differently – no-one can go crazy for two hours. But when you're playing an hour's set you can make it nice and punchy."
Punchy being the key adjective – as So Much Love (also from Spirit) succeeds Going Backwards, Gahan's expression slips towards a pugilistic grin; he has us on the ropes. He slinks. He struts. He stalks the stage like a charisma-loaded evangelical preacher from a Hollywood Western, snake of hip and already doused in perspiration. He's been doing this act for years – cupping his hand to his ears whilst pivoting the microphone out towards the audience; shouting "C'mon" or "Oh Yeah" during the middle eight – and it isn't a given that this should work; not only is Gahan in his mid-fifties (as indeed are Gore and Fletch) – not always a becoming age for this type of shtick – but even when he was younger his on-stage affectations always carried with them a sheen of naffness. It's olde-time preacher crossed with holiday camp entertainer.
(When the concert was transmitted on BBC4, one social media wag even started playing Depeche Mode live bingo; 'Dave does a camp hip wiggle.' 'Dave spins round and round.' 'Andy Fletcher wears sunglasses.' 'Martin Gore does his solo song.' We nearly get a full house).
It isn't a given that this should work – yet it most assuredly does. If anything, the gig's intimacy – plus set length abbreviated to punchiness by the demands of broadcast media – amplifies this persona even further. Gahan looks as if he's having the most fun it's possible to have; this isn't just infectious, but utterly hypnotic. A masterclass in crowd psychology – we chant, sing along (even to the new material, which despite being out for a handful of weeks is greeted like old friends), cheer, clap and holler, and all of it in unison, as one, without dissent. Every gig you'll ever go to, there'll always be at least one enclave where folk are gossiping or toying with their mobile phones – but this isn't an option, here. 'There's a fire in my veins,' Gahan confesses as So Much Love approaches its denouement, coyly turning a forearm to the crowd as if expecting us to scan for track marks, and he has us – rapt.
David Gahan isn't the Messiah. But an hour on-stage at the Barrowland Ballroom, and he could give him a run for his money.
You must be registered for see medias